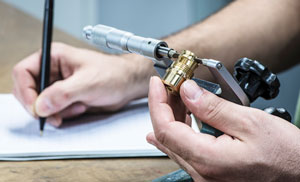 The IMC Group has been certified by the prestigious Standards Institution, as being in full compliance with quality standards:
AS 9100 Rev C
ISO 9001:2008
ISO 14001:2004
OHSAS 18001:2007
Incoming batches of carbide powders are carefully analyzed to ensure that the raw materials do not deviate from set standards.
In addition, completed products are inspected before shipping, to ensure delivery of the finest quality goods. Quality control facilities include the metallurgical laboratory, raw metal testing, an online testing procedure and a machining center for tool performance testing and final product inspection. Only the finest products are packaged for entry into the IMC Group's inventory.